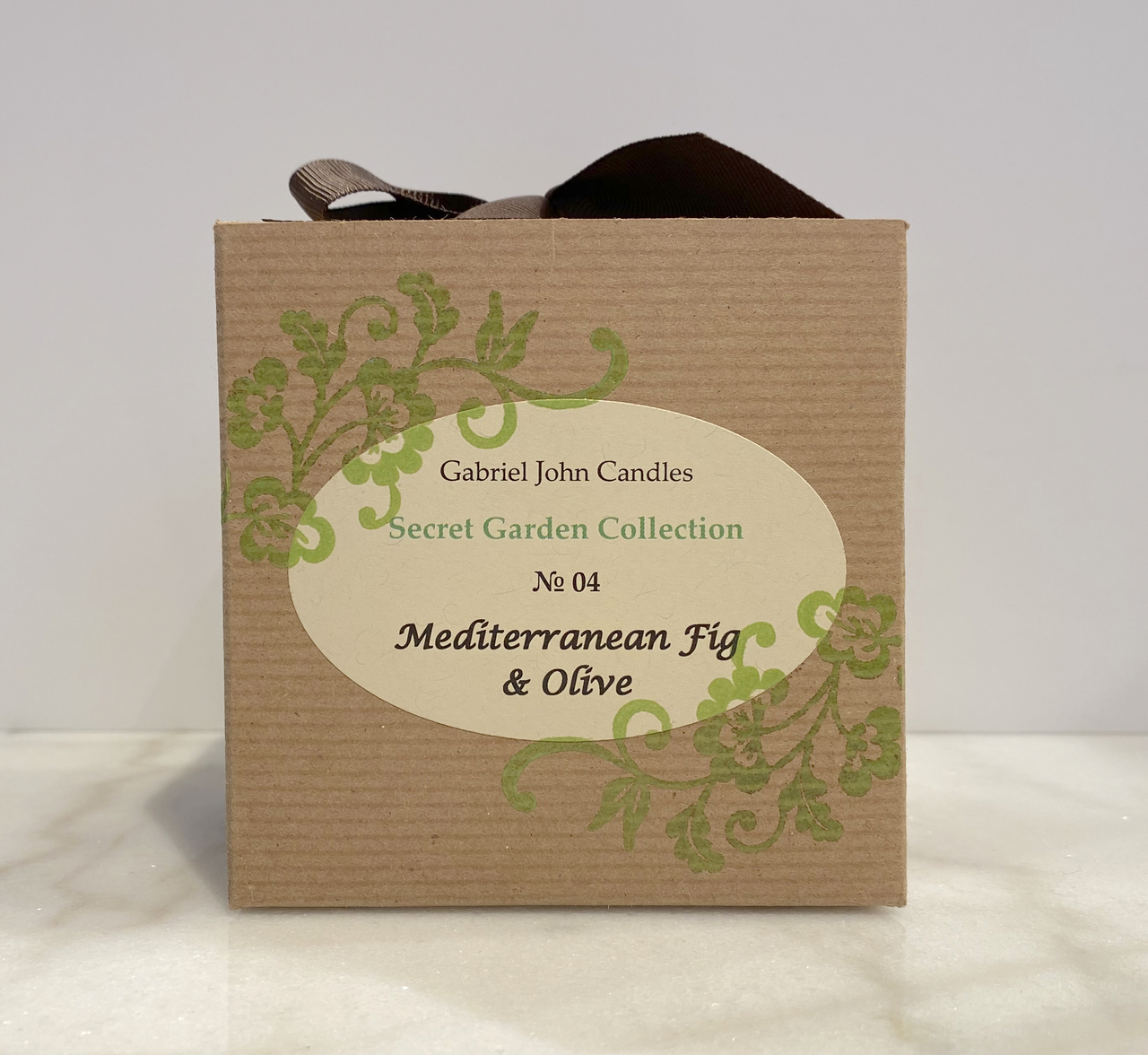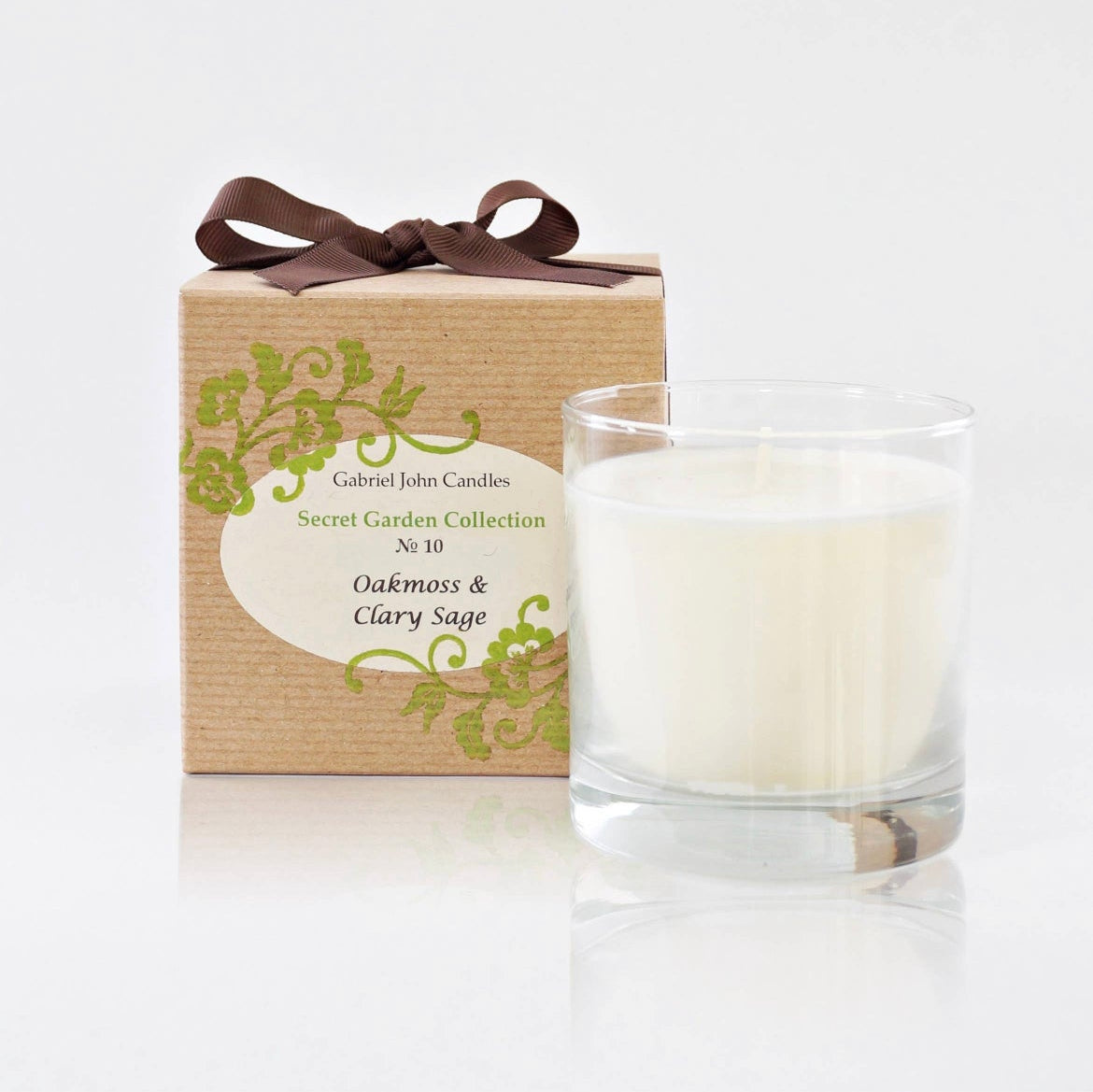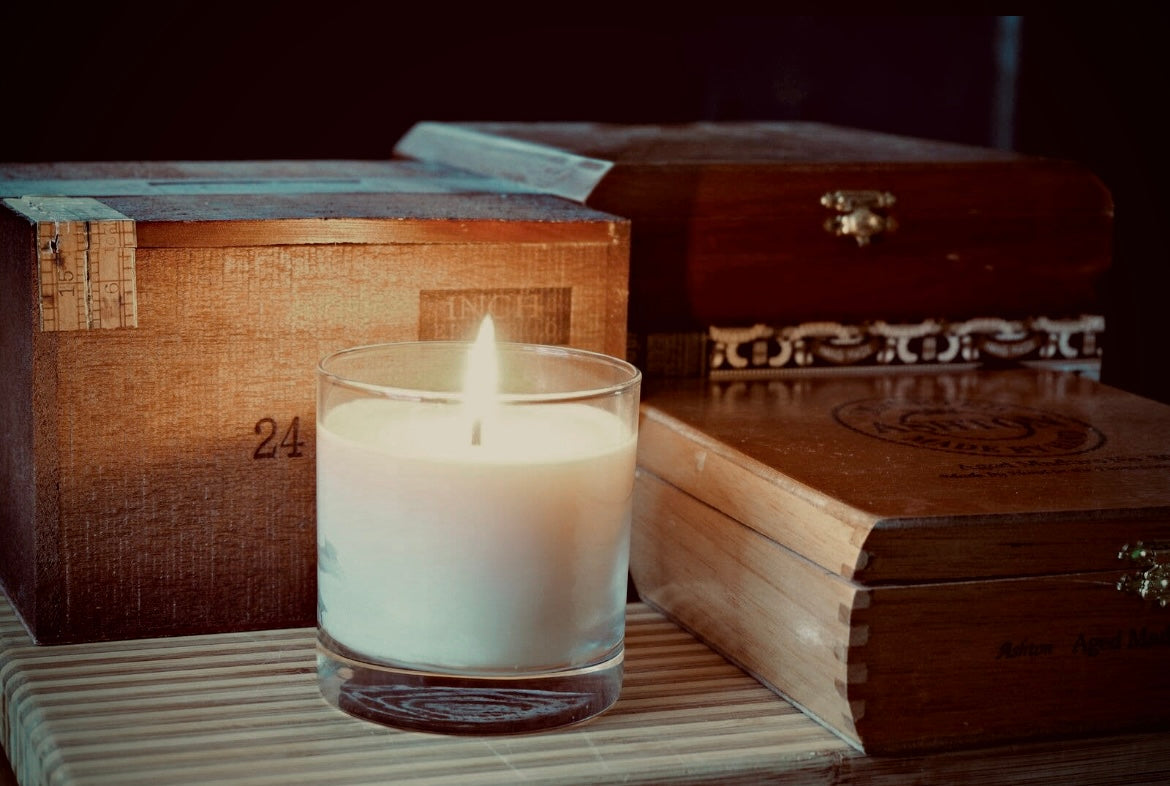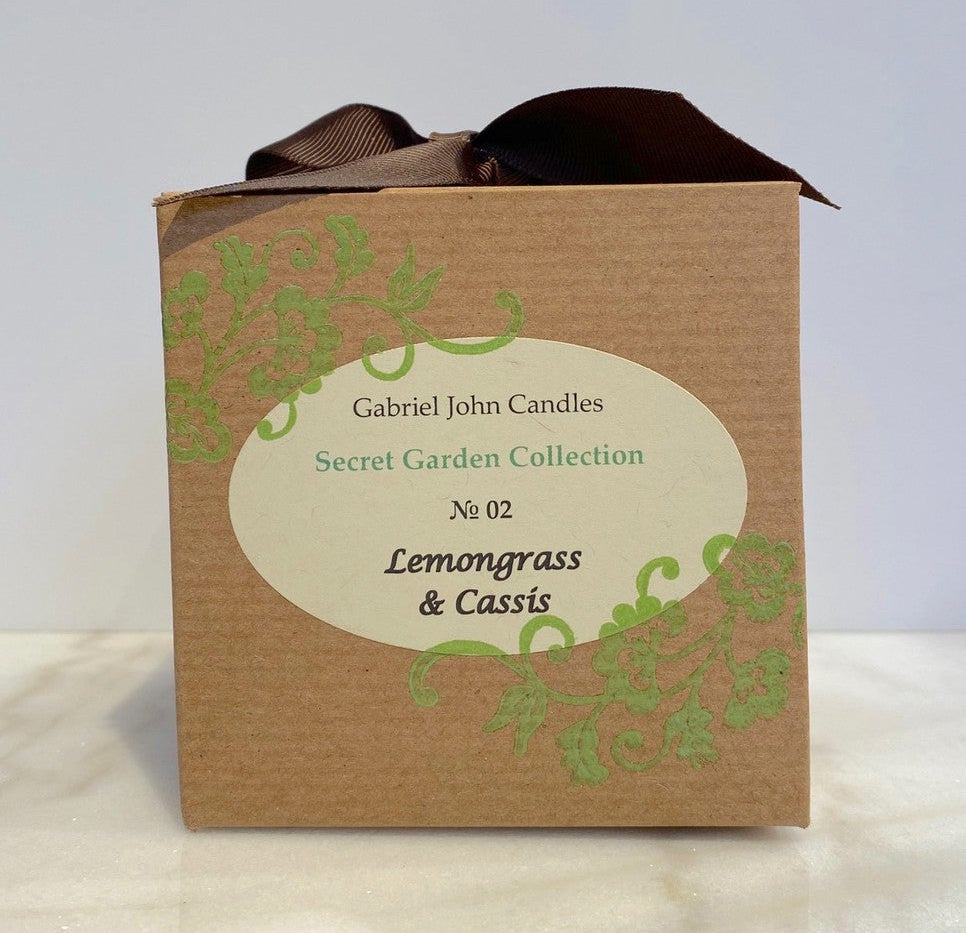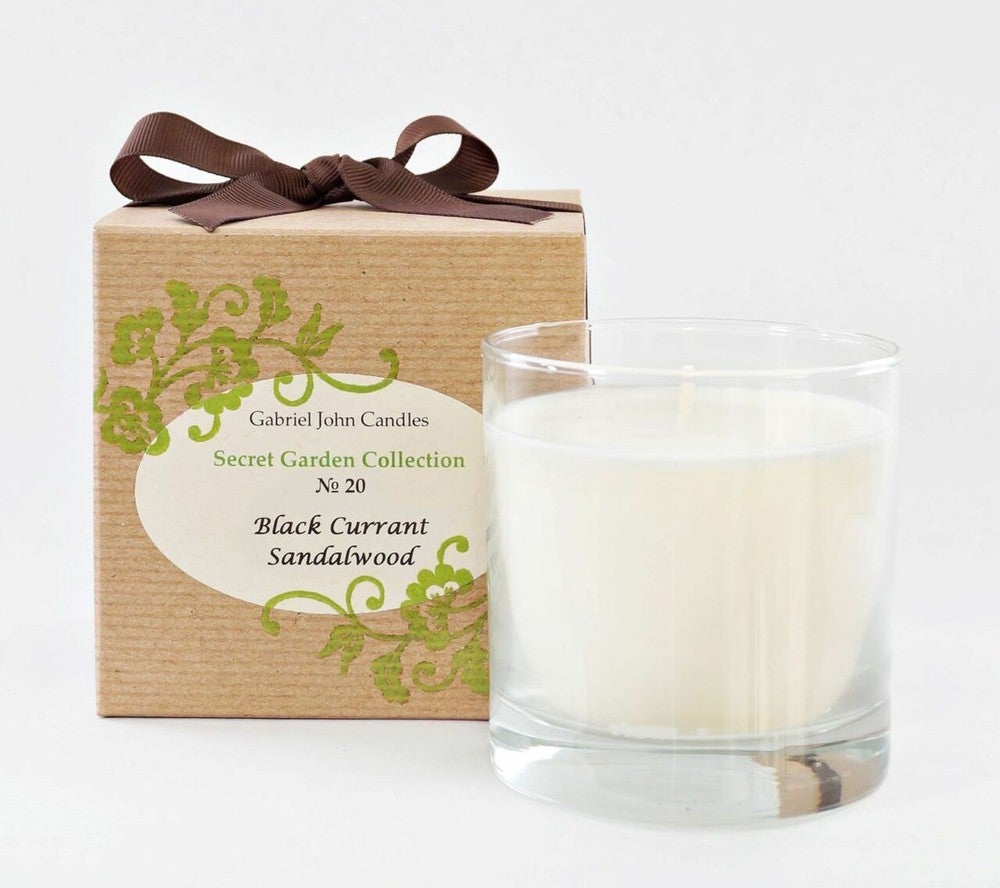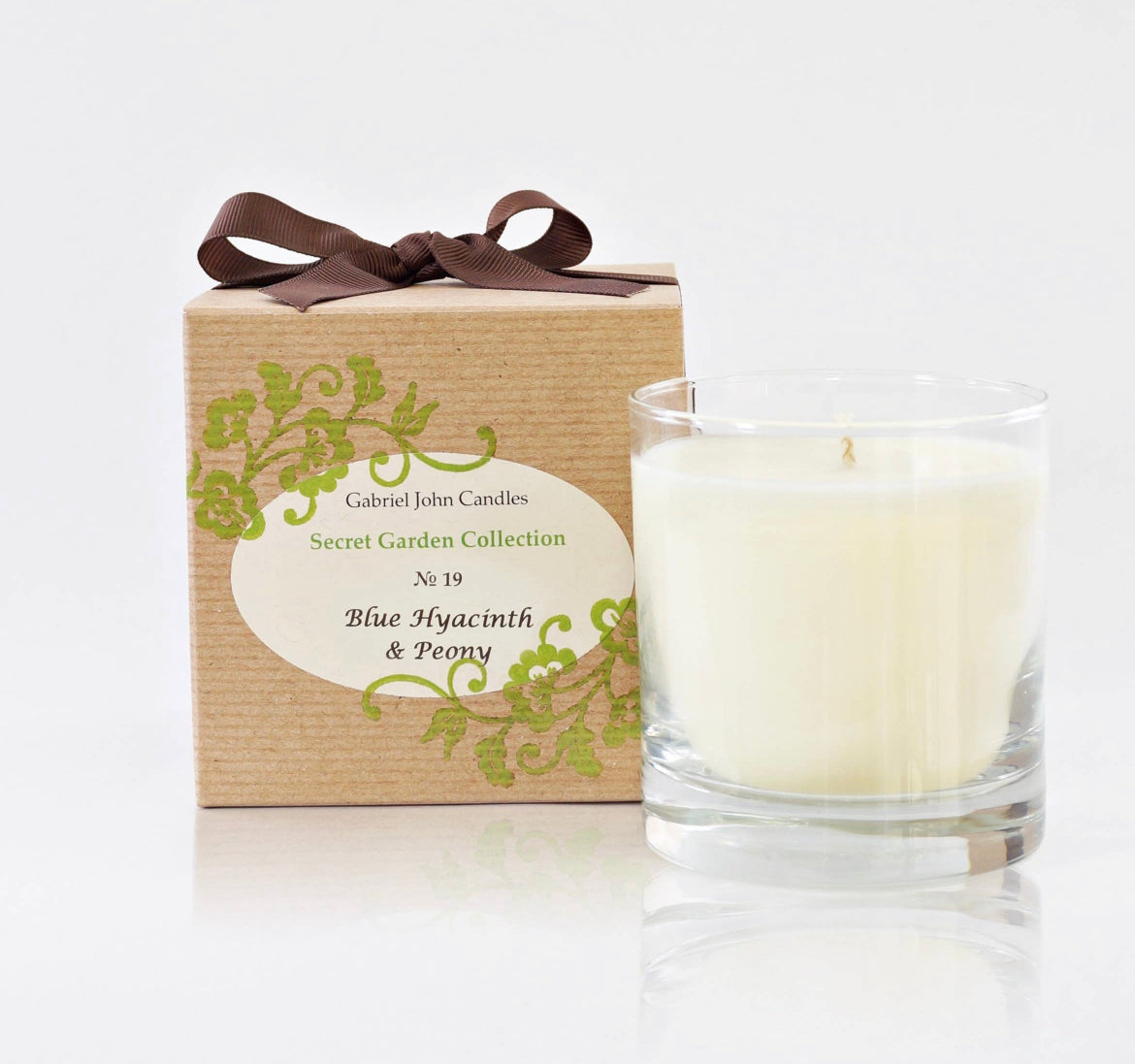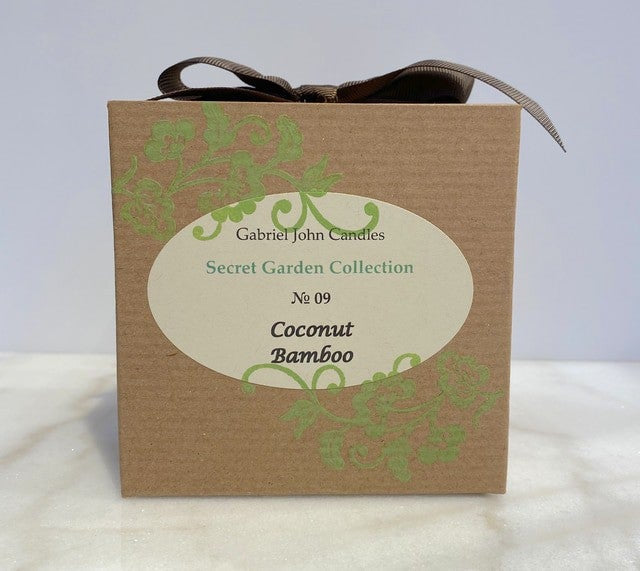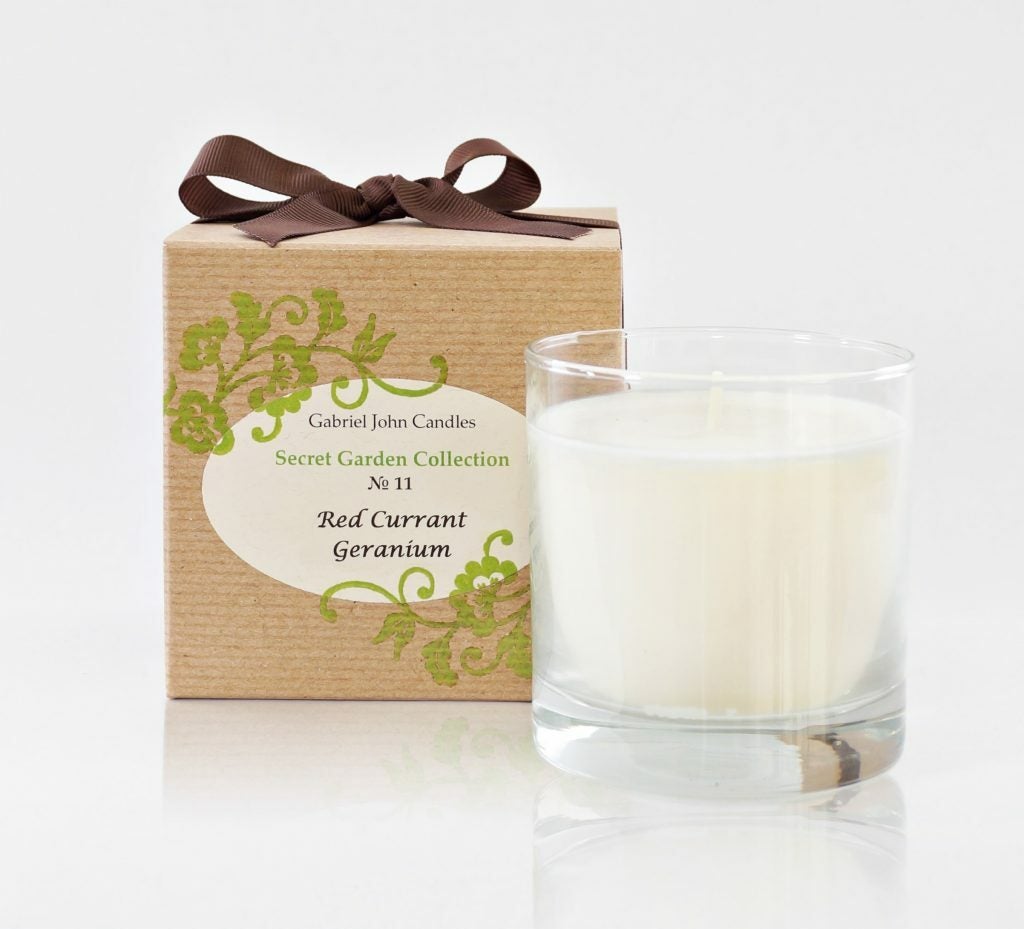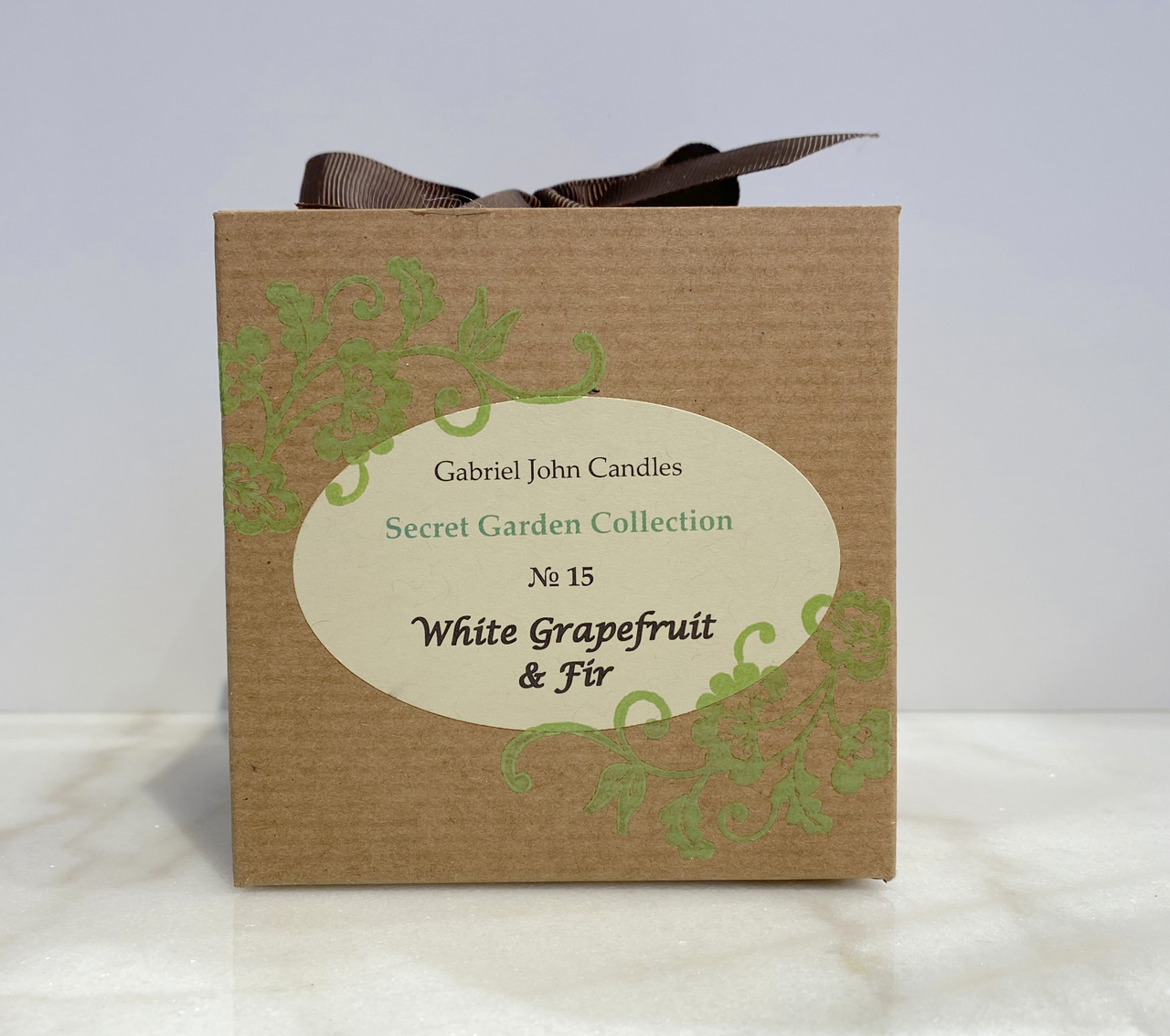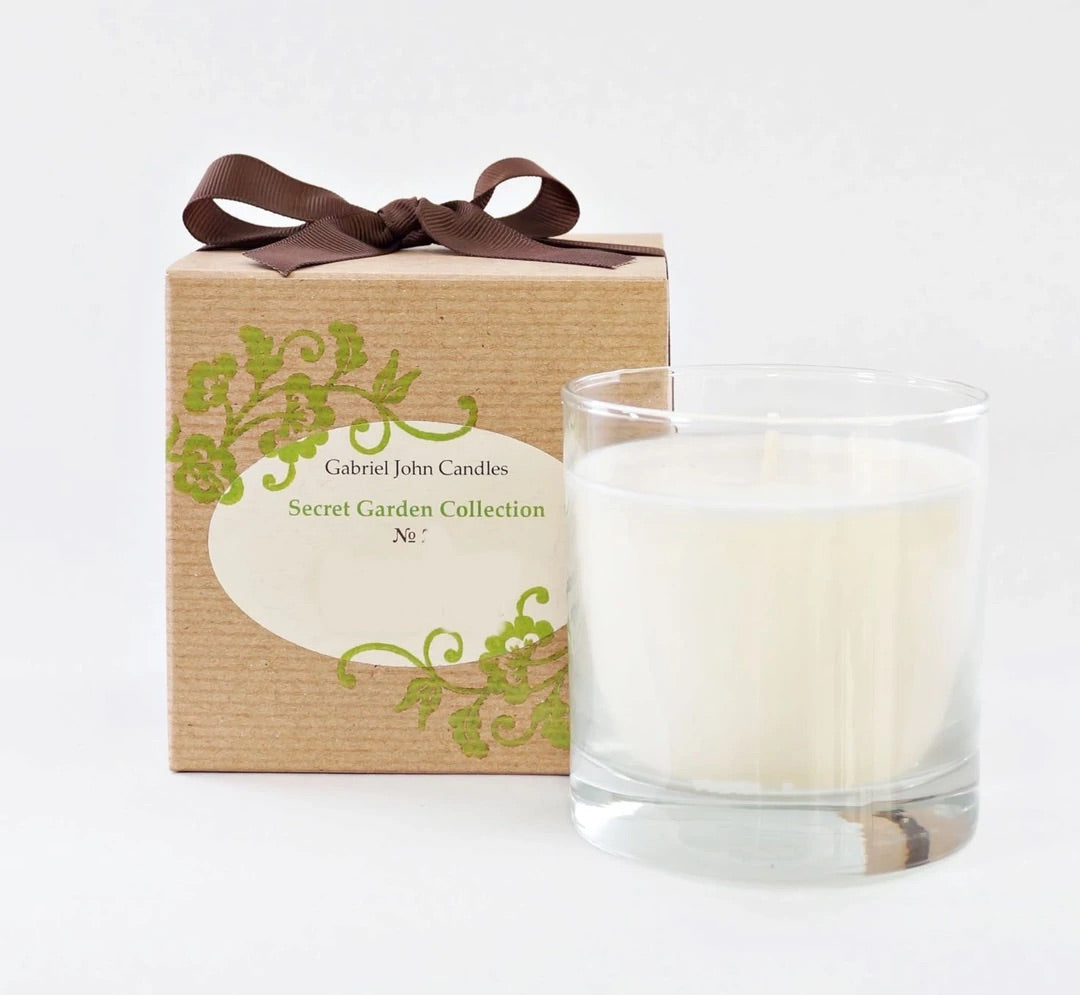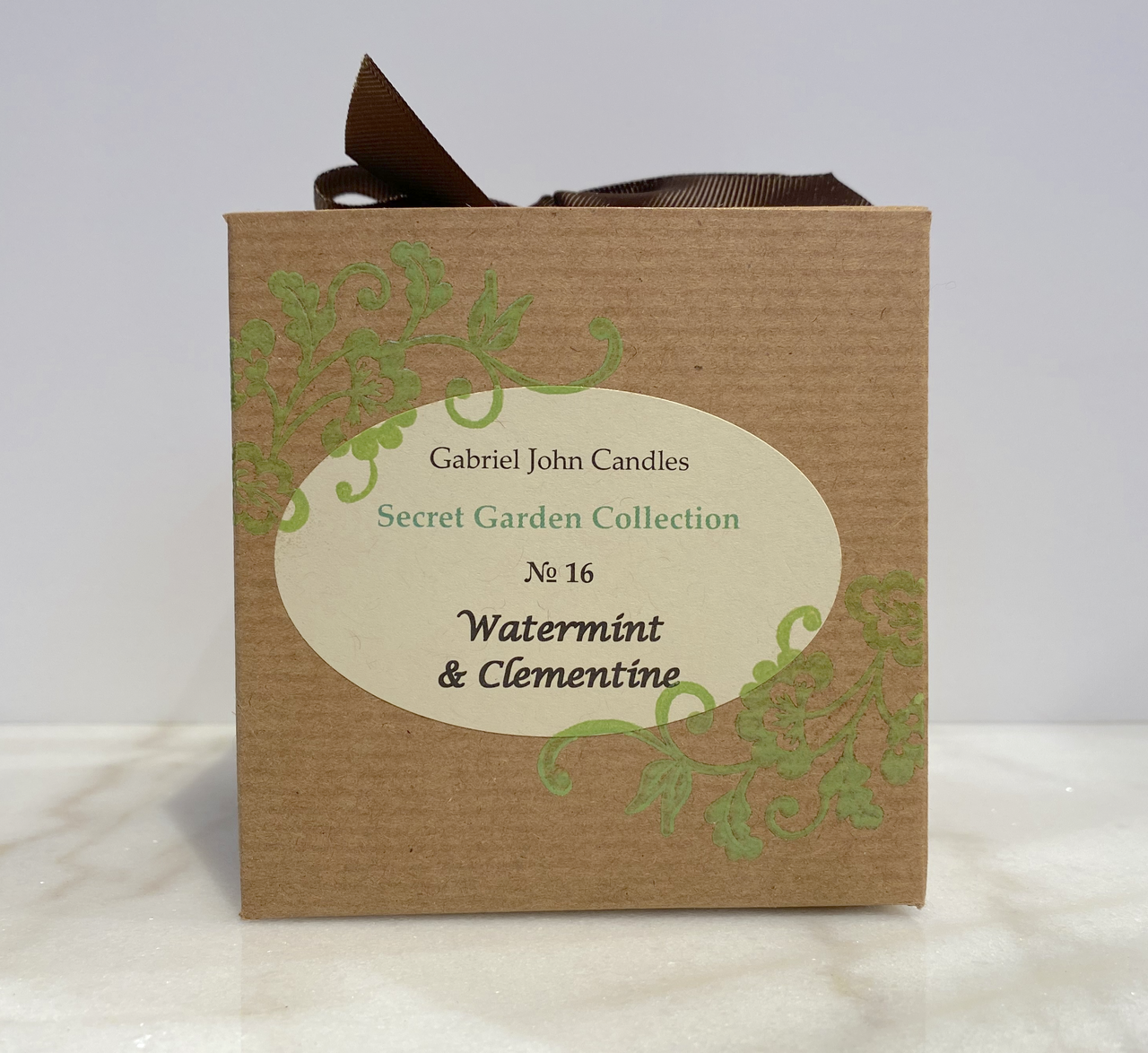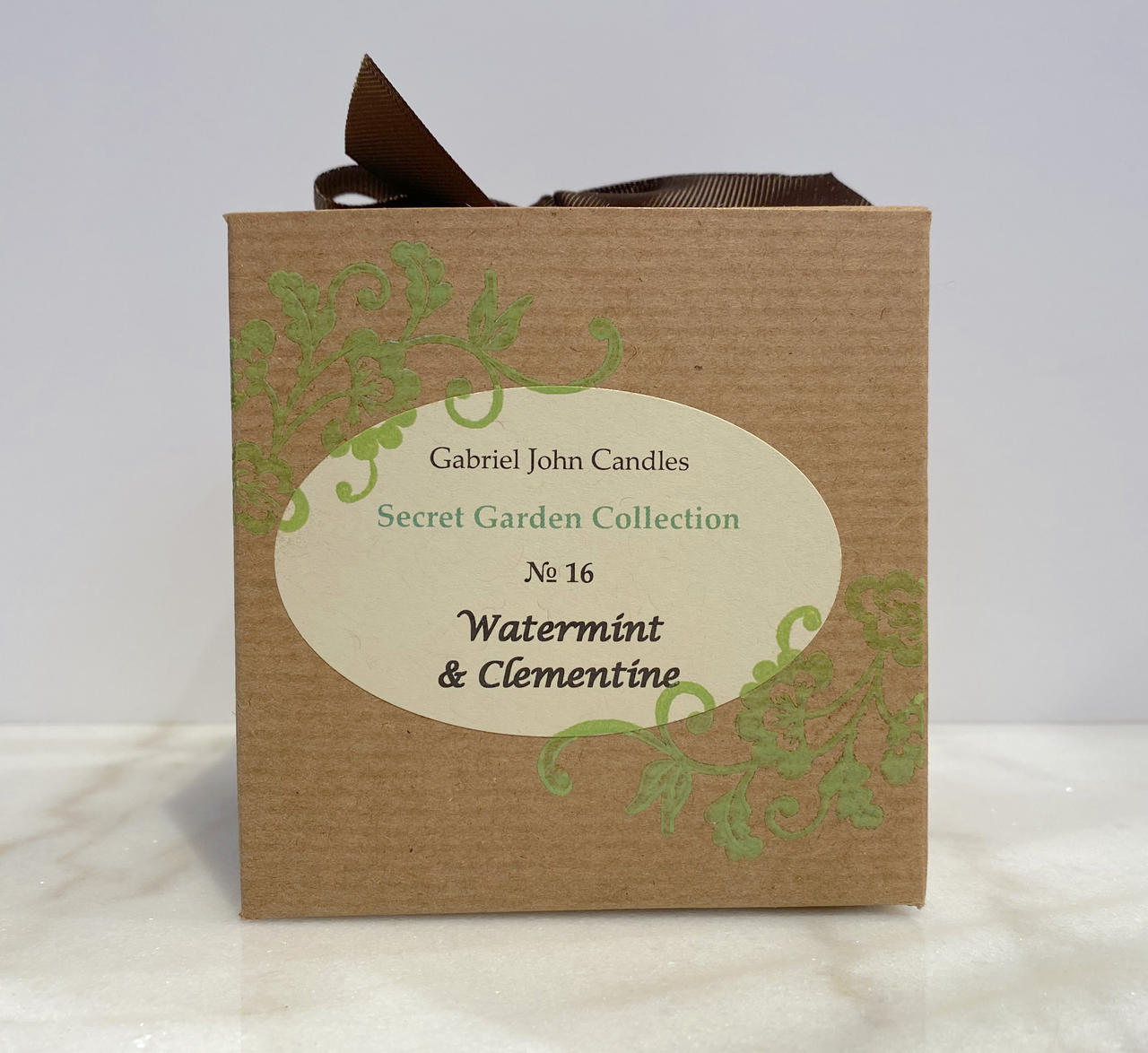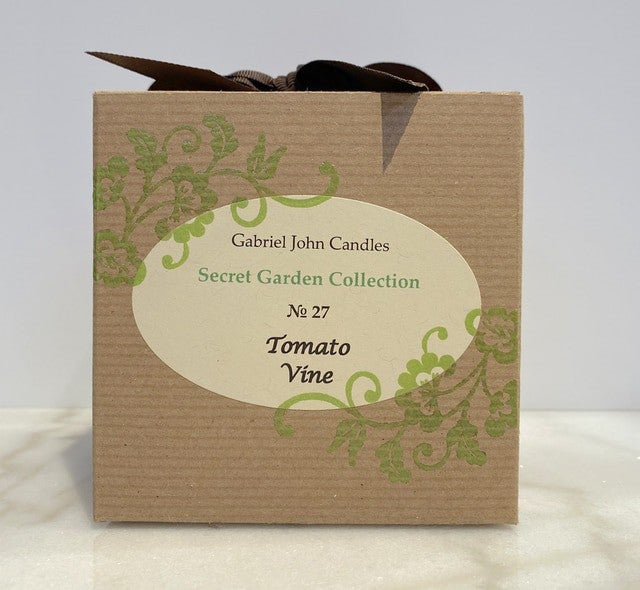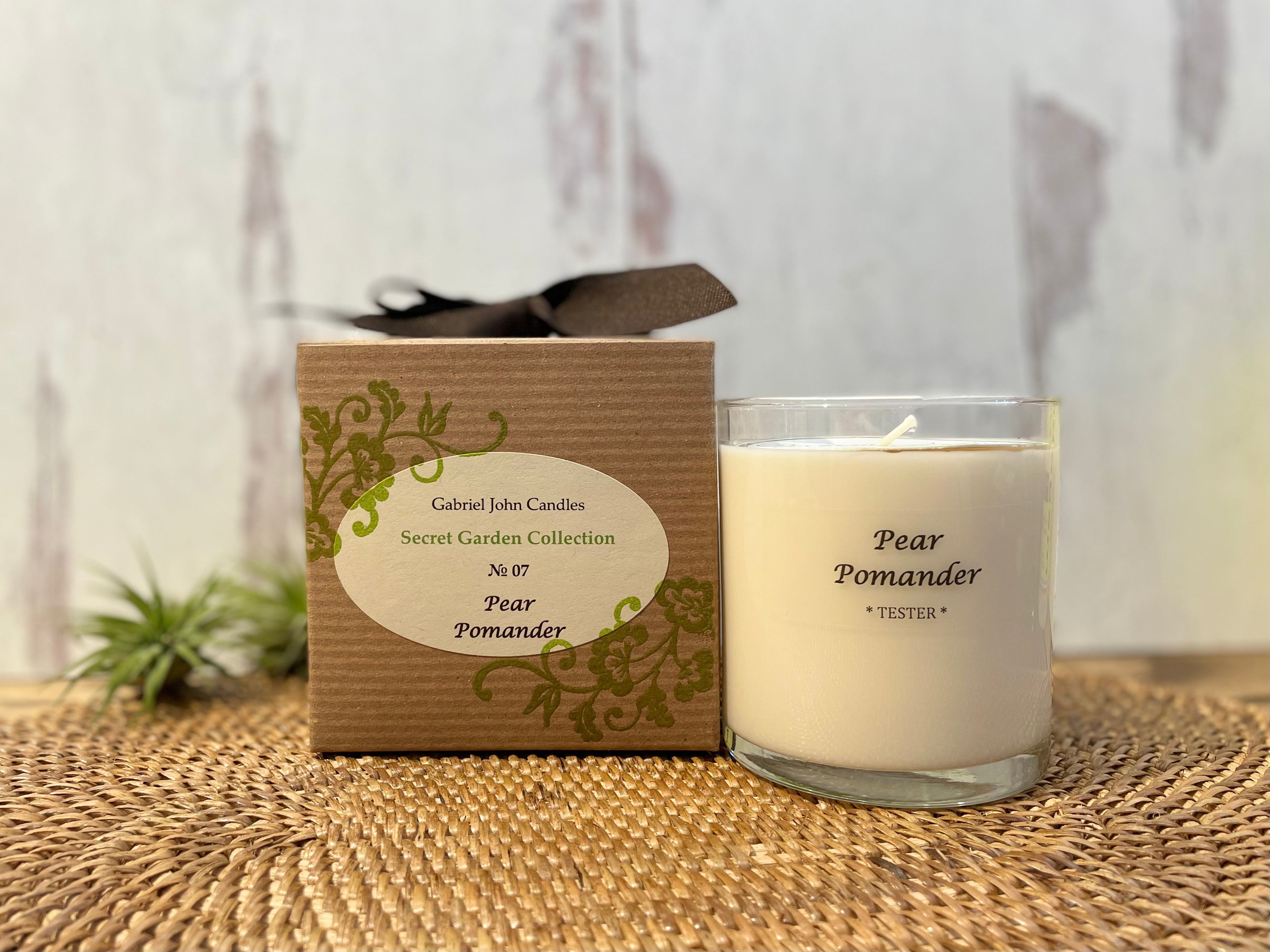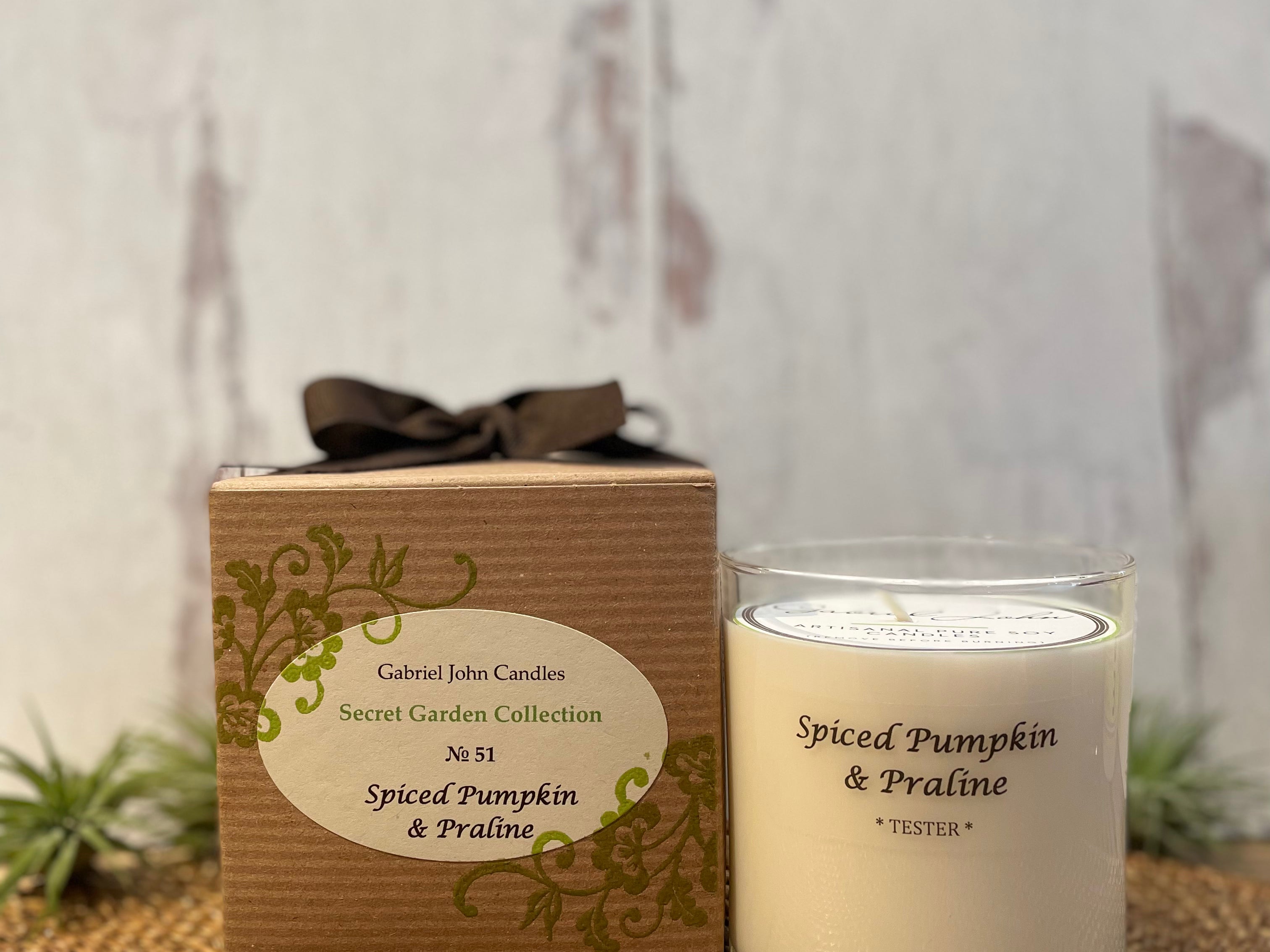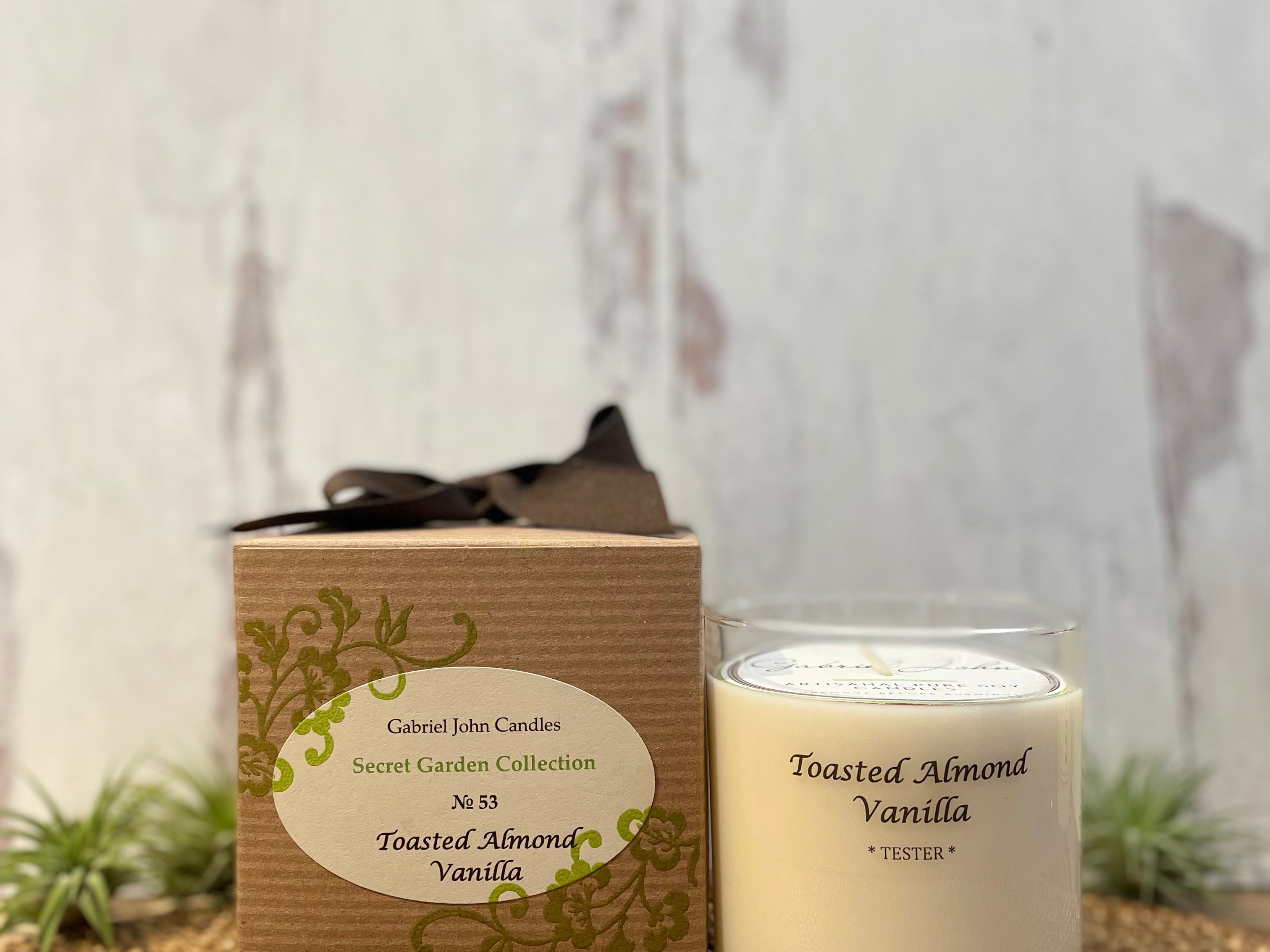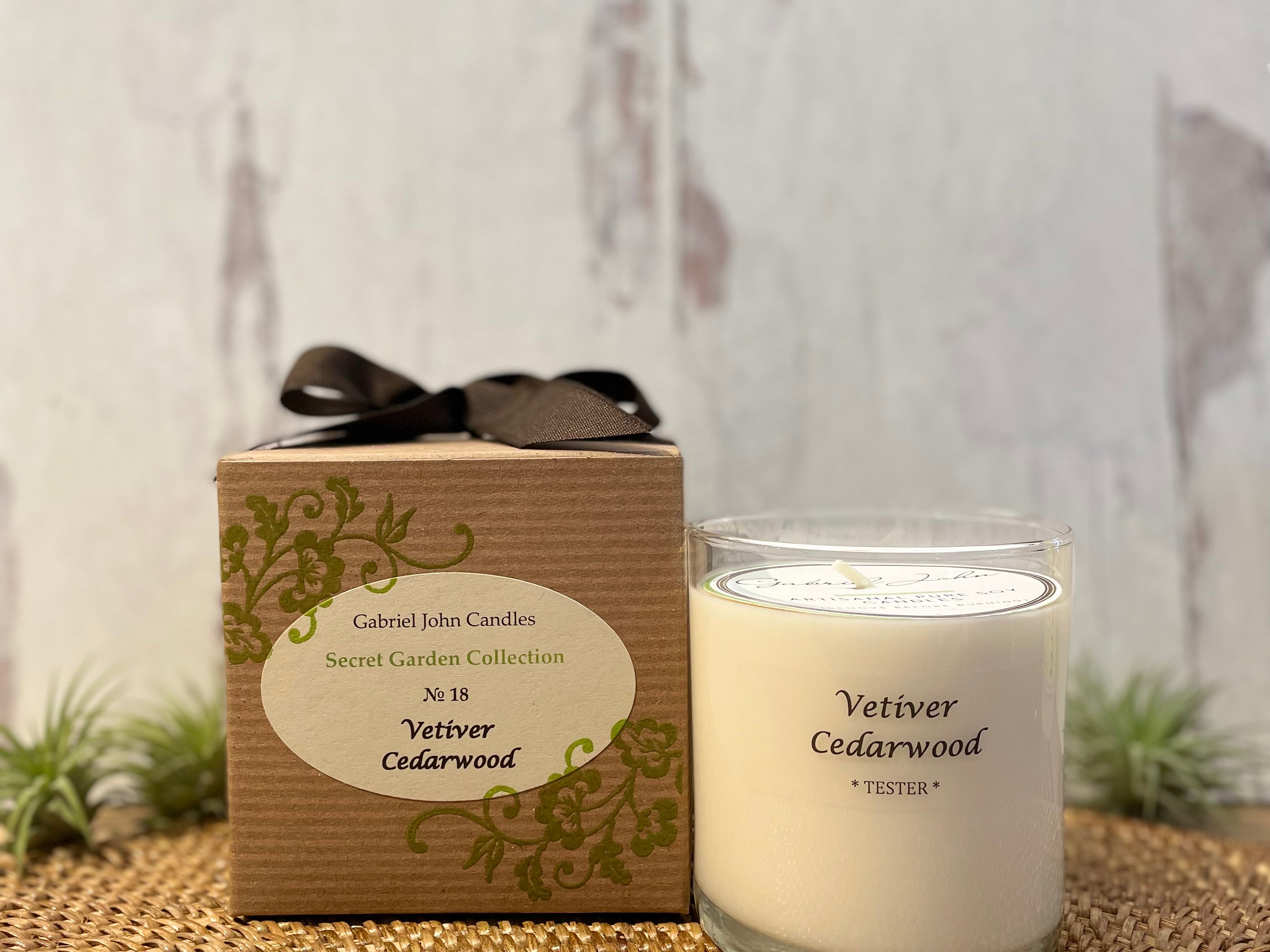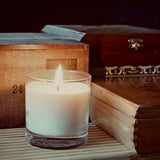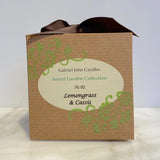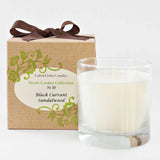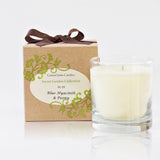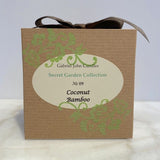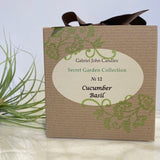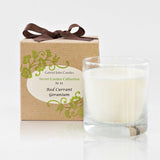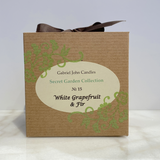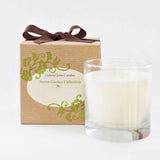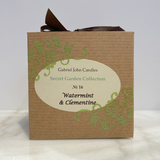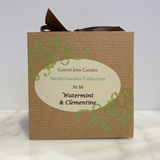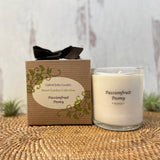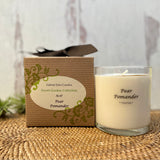 Made with: 100% Pure Non-GMO Soy, Pure Essential Oil-Infused Fragrance Blend, Phthalate-Free, Cotton Wick, Biodegradable + Compostable Packaging
Burn Time: Approx. 60 hours
10 oz.
Organic White-color candle
Reusable clear glass container, "rocks glass style" 
Black Currant Sandalwood: Black Currant, Cassis, Amber, Sandalwood. An exotic blend with deep woodsy notes and sensual amber.
Blue Hyacinth + Peony: Bergamot, Ylang Ylang, Pink Peony, Hyacinth. A must have for floral lovers. 
Calla Lily fresh floral bouquet opens with bright notes of clover and lemon peel before giving way to a floral heart of hydrangea and lily.
Cardamon Cream & Chestnuts infusing rich cream with black cardamom, cinnamon, and chestnut for a unique seasonal change.
Citrus Rosemary: Rosemary, Lemon, Mandarin, Bergamot with hints of Tart Red Currant, Rose, Jasmine, Geranium. This one has a clean herbal scent. 
Coconut Bamboo: Green Coconut, Fresh Leaves with base notes of Bamboo, Warm Wood, Vanilla.  A captivating, year-round peaceful scent with an aroma that will fill a room without overpowering the space.
Cucumber Basil: Fresh Cucumber, Sweet Basil, Lemon, Earthy Geranium. This scent captures a bright day spent in the garden. A balanced blend that is purely refreshing!
French Lavender Tangerine: Bright Lemon, Tangerine, French Lavender with undertones of Cypress, Eucalyptus. 
Juniper + Cypress: Bright Lemon, Sweet Tangerine, French Lavender with base notes Cypress, Eucalyptus. 
Lemongrass + Cassis: Lemon Pulp, Orange Rind, Kiwi with badd notes of Green Tea, Bamboo, Cedarwood. This one is refreshing and uplifting!
Mediterranean Fig + Olive: Citrus, Fig, Musk & Cashmere. A sweet and sophisticated aroma.
Oakmoss + Clary Sage: Fresh Sage, Clover, Jasmine, Honey-Rose with rounded out notes of Earthy Moss, Cinnamon, Cedarwood.
Pear Pomander ripe pear muddled in apple cider and blended with clove sugar. A slight spice-forward fragrance that allows the bright, juicy pear to shine though.
Pineapple Sage + Cedarwood: Pineapple, Sage, Cedarwood. An unexpected + exotic blend with sweet pineapple and aromatic sage to create a candle that is both warm and sophisticated.
Pomegranate Masala Chai: Bright Pomegranate & Spicy Masala Chai Tea. 

Red Currant Geranium: Tart Red Currant, Rose, Jasmine, Geranium. An elegant herbal aroma. Clean and subtle... a must have! 
Sweet Mint + Grapefruit:  Japanese grapefruit, Sweet mint, Watercress with base notes of Rose, Jasmine, Cassis. A fresh and bright scent with a hint of tartness creating this sophisticated scent.
Tobacco Teak: Tobacco, Leather, Amber, Musk with base notes of Aged Teakwood, Patchouli, Sandalwood.  A bold and complex candle, bring this sophisticated scent to any room!
Tomato Vine: Freshly picked tomato, Lemon Peel, Bright Herbs. 
Watermint + Clementine: Orange Citrus, Sweet Basil with base notes of Orange Peel, Mint Leaves, Chamomile, Agave. 
White Grapefruit + Fir: Mild Citrus, Japanese grapefruit, Watercress and base notes in Earthy undercurrents, Woodsy Balsam. 
White Tea + Jasmine: Mandarin, Lemongrass with mid notes of Bergamot, Ginger and base White tea, Jasmine. Uplifting and ethereal, this scent transforms any space into a soothing atmosphere.
Gabriel John Candles make eco-friendly, small batch, artisanal candles hand-poured in their Chicago studio.
gabriel john secret garden candle collection (various scents)
Shipping & Return Policy

Shipping

Our standard shipping is USPS.
Online orders ship within 2-5 business days (but usually sooner!)

Order tracking

Once shipped, you will receive a Shipment Confirmation email with a tracking number. 

Local Pick-Up: If you select local pick-up you will receive notification when your order is ready. 

Return Policy

We hope that you LOVE your purchase from us. If for any reason you are not completely satisfied with it, you are welcome to complete an in store return for store credit, or exchange within 30 days of purchase (we do not issue refunds).

Certain items cannot be returned, like perishable goods (such as food, flowers, or plants), custom products, and personal care goods (such as beauty products). Please get in touch if you have questions or concerns about your specific item.

Any item purchased at a discount is a final sale and cannot be returned or exchanged.